December 6th, 2007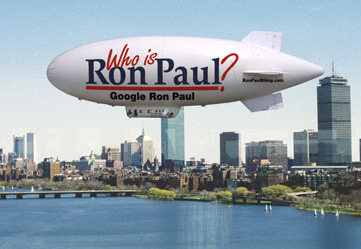 Does anything compare to the ingenuity, enthusiasm, and hard work that Ron Paul has inspired in his supporters? Every time I think the grassroots has had its grandest hour, they go and do something even more crazy and awe-inspiring. Initially, it was mostly a whole lot of clever videos, songs, and blog posts about Ron Paul. Supporters, including myself, couldn't stop seeking out online media to learn more about the candidate and his chances of winning. Lately, the effort has shifted into massive real world projects that would never be remotely possible for supporters of any other candidate to achieve (although they do occasionally try). Here is a list, in no particular order, of efforts that have made my jaw drop. In many cases, I believed the goal was set too high and failure was certain, but I have been proven wrong every time.
November 5th Money Bomb – This legendary fundraiser changed the corporate media's attitude toward Ron Paul overnight, raising well over $4 million dollars in one day. The official campaign didn't need to do a thing.
Operation Live Free or Die – Hundreds of people are taking time off of work to go to freeze their butts off in New Hampshire, so that every voter in the state knows who Ron Paul is, and what he's about. It's hard to get people to leave their homes for a couple of hours even to attend a potluck. But for Ron Paul, they are willing to leave home for days or weeks at a time to get him elected. The organizer quit his cushy job at Google to coordinate the effort. Others have quit their jobs to participate.
Tea Party – Not only does it look like the December 16th money bomb will be significantly bigger than the first one, it has also turned into a massive publicity event in Boston, where volunteers are expected to travel from all around to reinact a modern version of the Boston Tea Party, this time dumping the IRS, the Fed, the Iraq War, and any number of other unconstitutional federal programs into the harbor.
Ron Paul Blimp – I'm sorry, the what??? A blimp! Awesome. Ron Paul supporters must agree because they have already given $135,000 to pay for this effort. They need to collect $200,000 by midnight on Friday so make sure you send in your money ASAP.
Granny Warriors – These dedicated ladies painted their RV up with Ron Paul messages and have taken it all over the country to campaign for Ron Paul over the last year. They barely see their homes because they travel so much. They have virtually given a year of their lives in support of Ron Paul.
Ron Paul Love Bug – A supporter in Asheville, NC decorated his beautiful new VW bug with Ron Paul bumper stickers and message decals to help spread Ron Paul's message wherever he goes. Word has it that he gets a lot of attention, and reactions have generally evolved from curiosity to support.
Ron Paul Yacht? – I can't find any pictures, but I hear there was a Ron Paul yacht outside the recent Florida debate. Huckabee is reported to have asked Ron Paul if he arrived on the boat. There was a huge show of support in Florida. Guiliani commented on the large numbers of supporters for Ron Paul.
These are a few examples that spring to mind, but equally inventive efforts are happening all over the country, and in fact, all over the world. Can you imagine groups of Giuliani, Clinton, Romney, Huckabee, or Obama supporters pulling off even one of these endeavors? Several have tried to at least mimic the "money bomb" success, but none have come close. Because, while other candidate may have supporters who think they'd do a good job, Ron Paul has supporters who believe there is nothing more important right now than to get this man elected. The only thing more amazing than what grassroots supporters have done for Ron Paul's campaign is the slew of imaginative efforts that are bound to follow.
Did I leave off your favorite Ron Paul grassroots effort? Let everyone know about it in the comments section.