February 8th, 2008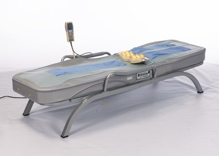 I love a good massage. Ever since I got into the high tech industry, I've had a couple of knots in my back that ache and throb after working all day. For a while I had health insurance that covered weekly massages and my company had an amazing massage therapist who visited the office regularly. She was so good that I would be dizzy after every session. My back wouldn't ache at all for days.
The MIGUN massage bed is not as good as that massage therapist. But it is better than every other massage therapist I have ever gone to. And I've been to some good ones.
All across the country, MIGUN stores are popping up, offering use of their beds absolutely free. All you have to do is sit through a 30-minute orientation, one time, and you can come back every day, forever, for free. In this orientation, they will tell you all about how the bed uses far infrared light, heated jade stones, acupressure, and simulated accupuncture, to cure a multitude of ailments. Even the FDA has approved their statements that the bed can relieve a host of conditions including diabetes, high blood pressure, sciatica, and back pain.
I've gone every day they are open (6 days a week in Asheville) for the past 3 weeks. I'll be honest; the bed hasn't fixed my back. In fact, my back aches right now as I'm typing this. I'm willing to give it a chance to work though. Afterall, it has taken me over 10 years of software development to build up these tense back muscles. And if nothing else, it really is one hell of a massage, especially for the price.
Robots are going to put us all out of work one day.