March 27th, 2009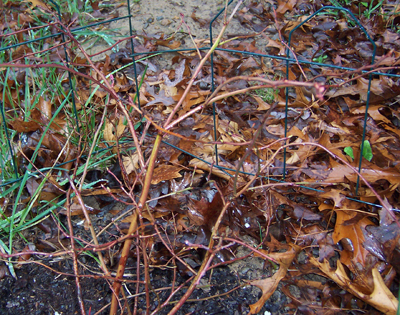 I realized that I promised garden updates after planting various things last fall and I never filled you in on the results. Well, they are not good.
The mint plant was doing quite well for a while but then it died after a big rain storm. I can't be sure but I think it was from getting dumped on by a rooftop waterfall resulting from a clogged gutter.
My winter greens didn't last long. I was very good, at first, about covering them with the frost cover when it was going to get cold at night. But we had many cold nights and that frost cover was a big big pain. I got lazy. The chard died first. Then the kale and winter lettuce. But the garden is all prepared now for spring so I may plant something soon now that the weather is nice.
I thought the blueberry bush was completely dead as well but upon closer inspection, there are a few new buds on its branches! So there is still hope for that one. That's the blueberry bush pictured above.