January 14th, 2008
Planting a vegetable garden has been high on my list of things to do since I moved into my new Asheville home this past July. Many convenient excuses have prevented me from getting started on this health-giving, money-saving, highly satisfying project. Today is the day when I put it off no longer.
I spent this weekend reading about gardening, trying to find out the "right" way to go about it. There is a ton of information out there and it can be prohibitively overwhelming. The best advice I found was to just get started. Don't worry about doing everything perfect on your first garden. If you worry about all the nuances, you'll never plant anything.
The first step is to pick a good spot. A garden needs to get 6-10 hours of sunlight each day, so avoid areas that are shaded by trees or buildings. A garden should be in a relatively flat area that won't collect sitting water. Also, avoid areas next to trees that will compete for soil nutrients. My garden location isn't ideal, but it's definitely the best area my yard has to offer. I chose a 20'X 15′ area in the middle of the backyard, a little too close to a small tree, but it should get pretty solid sunlight when spring hits.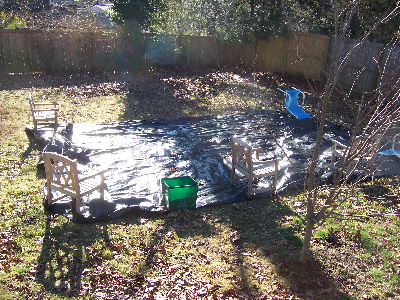 The second step is to kill the existing grass and weeds. The most common way to do this is to cover the area with opaque plastic for at least a month. The weeds may appear to be dead after a short time, but it is important to keep the area covered in order to kill the roots. The longer the plastic is left on, the fewer weeds that will survive. I do plan to replace the hodge-podge of junk with some 2X4s or bricks to hold down the plastic, but I don't have any on hand and I didn't want to use that as another excuse to procrastinate.
Now that I have the garden started, I can continue reading and learning about the next steps. How do I prepare the soil? When do I plant? Which vegetables should be planted when? Any advice for this novice gardener is very much appreciated.