June 1st, 2008
When I decided to start gardening (see earlier posts in this category) I really thought that by now I would have a lovely backyard garden, springing forth a bounty of fruits and vegetables. It's taking a long time to get that going. I need to bring in some decent dirt and finish loosening up what's there with a pickax. I've been dragging my feet on it quite a bit due to the expense and the effort involved.
But that's no reason not to get some other gardening projects done. I always thought that planting herbs around my front yard would be a practical and beautiful addition to the decorative plants that are already there. There is probably a "right" way to do that. Waiting until I found the motivation to look into all of that was just holding me back from actually doing it.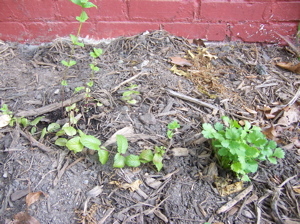 I've had a potted mint plant in my kitchen for months, doing quite well. I recently saw a cilantro plant for sale at the grocery store and just had to bring it home. My kitchen counter was getting too crowded so I figured it was time to plant the herbs.
So, what was the complex process for starting my "herb garden"? I dug a hole, planted the herbs, and gave them a little water. After 2 days, they look quite well. I'll post another picture after they've either flourished or died.