November 3rd, 2007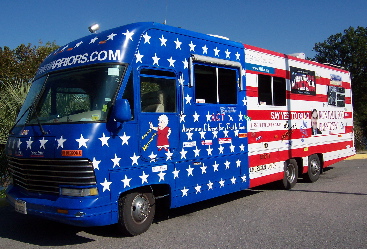 This weekend, I had the great pleasure of riding down to South Carolina with Linda, one of the Granny Warriors, in the "Freedom Wagon". Upon first meeting Linda, or "Granny", I found her to be a little intimidating. She's a fierce lady in her 70's, smokes like a chimney, and always speaks her mind. She also laughed at me when I asked if I needed to book a motel room. But it didn't take long to realize that Linda is an incredibly kind and generous person, motivated only by a sincere desire to help people and to help spread the word about Ron Paul.
The Granny Warriors have taken their RV all over the country. Linda says she's spent maybe a total of a month at home this year and only for a few days at a time. She's also spent thousands of dollars of her own money for the road trips, materials, and even airplane fly-overs at NASCAR races. To help fund these efforts, the Grannies trade Ron Paul t-shirts, yard signs, pocket Constitutions, and other items, for donations, "whatever you think it's worth to you." In exchange, the people of South Carolina seemed to donate generously.
When other volunteers needed a supply of buttons or handouts, Linda was happy to share with them without a second thought. She knows everybody and everybody knows, loves, and respects her. Ron Paul even gave a shout up to the Granny Warriors during the Friday evening Rally. She has an endless supply of great ideas and boundless energy to carry them out. Throughout the trip from Asheville to Columbia and back again, she was discussing new ideas and plans for upcoming road trips.
The Granny Warrior's RV gets a tremendous response, both driving on the highway and parked in town. The Grannies have the ability to spread Ron Paul's freedom message to people that Ron Paul may not yet have reached. They really push the RV to its limits to support Ron Paul.
If you have already given your maximum $2300 donation to the official Ron Paul campaign, or if you are inspired by their activities, consider donating to the Granny Warriors on their website or on chipin.com.
And if anyone has any detox suggestions for 30 hours of second-hand smoke inhalation, please let me know.