December 24th, 2007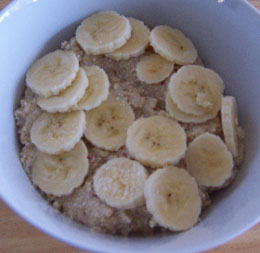 Breakfast has always been my favorite meal of the day. When I was a kid, I delighted making pancakes or french toast with my family. When I became vegan, I was thrilled to find vegan versions of my favorite breakfast foods. Just because I'm a gluten-intolerant health nut with a focus on raw food, doesn't change my emotional need to have exciting breakfasts. It certainly doesn't change the fact that a filling, healthy breakfast is the best way to start the day. Listed below are the recipes that I eat on a regular basis.
Green Smoothies
If I don't eat a green smoothie for breakfast, I will usually eat one for lunch or dinner instead. I believe they are an ideal meal for just about everyone and can go a long long way in counteracting any other junk food that finds its way into your diet.
1/2 head of any leafy greens
2-4 pieces of fruit
Blend in a high power blender or cut the greens and fruit into small pieces and blend in a standard blender. It's best to eat a variety of greens if eating them every day.
Porridge
This is my favorite weekend breakfast treat. I usually have this at least once each weekend.
2 cups sprouted buckwheat or soaked oat groats (soaked overnight)
1 apple
1 pear
1/2 tsp cinnamon
1/2 vanilla bean or 1/2 tsp vanilla extract
1 banana, sliced
Mix all ingredients, except for the banana, in a food processor until well mixed and remove from food processor. Mix in sliced bananas. Pour in fresh almond milk for an added treat.
Cooked Amaranth
This is a good breakfast to make on work days (or it was when I worked a "real" job) because you can set a timer get ready for work while its cooking. Just don't forget to mix in the fruit about half way through.
1 cup amaranth
2-1/2 cup water
1 banana, berries, or other fruit
2 Tbsp flax seed oil
Mix amaranth and water in a pot and bring to a boil. Reduce heat to simmer, cover, and cook for 25 minutes. Mix in fruit about 10 minutes before the amaranth is done cooking. Remove from heat and mix in flax seed oil.
Green Gorilla Smoothie
The name was stolen from a similar smoothie for sale at Green Life Grocery here in Asheville. I don't have any measurements on this. Every smoothie is like the kitchen experiments my sister and I used to throw together, except these actually taste good. No two are ever alike. All of these ingredients are not necessary, but these are the most common ones I use.
Almond Milk and/or young coconut water and meat
2 or 3 heaping spoonfuls of spirulina powder
a spoonful of barley grass juice powder
a spoonful of cacao powder or nibs
a spoonful of maca powder
2 bananas
pineapple
shredded coconut
Blend well. Make sure the powders aren't stuck to the sides.