January 11th, 2008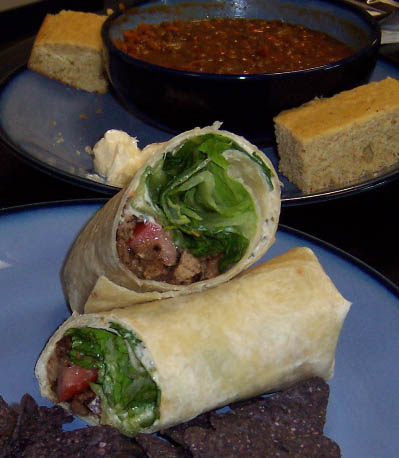 Cafe Indigo isn't easy to find, tucked away in the back of a business park, but it is definitely worth going out of the way for. The menu offers fairly standard items, such as eggless egg salad, lentil soup, veggie burger, and faux meat wraps, as well as a nice selection of baked goods and desserts, but the flavor and texture make this some of the best vegan comfort food I've ever had.
The restaurant is owned by two carnivores who became inspired by their vegan children to create delicious vegan food. The fact that they still remember what non-vegan food tastes like, is probably what has allowed them to recreate these old favorites so successfully.
Much like the people in New Hampshire, the restaurant owner, who was also our server, was incredibly welcoming and helpful. She catered to my gluten allergy needs by bringing me a menu with the gluten-free options labeled. She assisted my less adventurous omnivore friend by making suggestions about what she might be comfortable eating.
After talking me into ordering the best vegan cheesecake in the entire known universe, she brought my lunch companions a complementary mini-slice to try as well, which they happily devoured. The owners apparently spent 3 weeks experimenting with taste and texture to get this blueberry cheesecake just right – and they did.
Anyone planning a trip to New Hampshire should definitely make an effort to stop into Cafe Indigo.
See also my vegan restaurant tour.