November 1st, 2007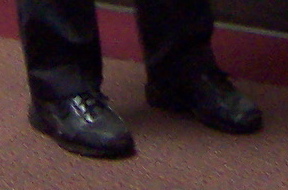 I just returned from South Carolina, where hundreds of Ron Paul supporters gathered to hear Ron Paul speak at his new headquarters in Greenville and again at the Spartanburg County Courthouse.
In many ways, it was just like any Ron Paul rally you'd find on YouTube. It was great to be there in person, but it wasn't anything especially new. What I found most interesting, and what I never noticed on YouTube, is Ron Paul's shoes. He wears black sneakers on the campaign trail. He's been wearing the same pair for months, and they sure are getting to look a little beat up. I don't mind. That just means he's spending my donations wisely. And if I had a schedule as demanding as Ron Paul's, I'd be wearing comfortable shoes too.
Coordinators estimated that over 400 people were in attendance at the Greenville rally. The parking lot, as well as the overflow parking lot, were entirely filled up. Most of the attendees were from South Carolina, but a few came in from Georgia, and about 20 of us came in from Asheville to hear Ron Paul speak.
Later that evening, at the Spartanburg County Courthouse, Ron Paul spoke to a full house. Many people had to settle for listening to Ron Paul through the speakers in the hallway.
Tomorrow morning, I head out again to help out the Granny Warriors at the Ron Paul events in Columbia, SC.
---
Whether you are looking for dress shoes or something more in summer fashion like sandals solestruck.com is sure to have a great shoe option for you! They're even a great option if you need wedding shoes! So don't delay, get some new shoes today.