October 26th, 2008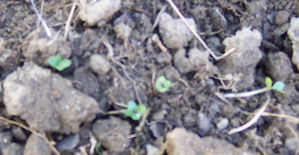 Like a kid asking if it's Christmas yet over and over again, I've been running out to my garden every day for the last week, hoping to see a few plants sprouting up. I planted dino kale, winter lettuce, and rainbow chard 11 days ago and was starting to worry that my haphazard gardening system (if you can call it a system) was going to fail straight from the get-go.
You cannot imagine my joy at seeing little greens shooting up from all 3 rows. The dino kale has quite a few plants growing – a couple look like they are already an inch tall. The lettuce has about half a dozen sprouts, and I found just one chard sprout starting to grow.
After planting the seeds, as discussed in my last post, all I had to do to get the plants to this point was (1) water the garden regularly and evenly and (2) chase my cat out of the garden so he wouldn't use it as a litter box. Most times, both (1) and (2) happened simoultaniously.
My camera doesn't take very good closeups so there is a somewhat blurry picture of a few of the kale sprouts.