December 24th, 2007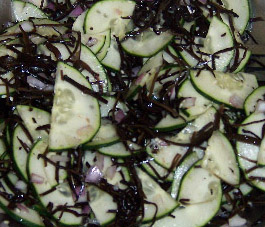 Just like every year for the past several, this has been my healthiest year ever. Having some very simple recipes and basic ingredients on hand has been the key to maintaining a clean diet and avoiding junk food binges and restaurant outings. Below are the simple meals that have made up a large part of my diet throughout 2007. Generally speaking, I try to eat at least 2 mostly raw meals per day. I've posted my favorite breakfast recipes in a separate post.
"Meal Salad"
The idea of the meal salad is to take whatever vegetables are in the fridge (I never use leafy greens) and mix up a little dressing to make it more filling and appetizing. I usually use these vegetables:
1 bell pepper, chopped
1 tomato, chopped
1 cucumber, chopped
1 avocado, peeled and cubed
1 stalk celery, chopped
¼ onion, chopped
sprouts or shredded zucchini
5 black olives, chopped small
My typical salad dressing:
1 clove garlic, crushed
2 Tbsp flax oil or olive oil
1 Tbsp Bragg liquid aminos
1 Tbsp nutritional yeast flakes
½ lemon, juiced
a little bit of black tahini
Cucumber Seaweed Salad
This is based on a recipe from Living on Live Foods by Alissa Cohen. (Pictured above.)
½ package of wakame or arame seaweed, rehydrated
1 cucumber, sliced thin
¼ onion, chopped
2 Tbsp fresh lemon juice
2 Tbsp Bragg liquid aminos
Mix all ingredients together. Best when you let it sit for 30 minutes.
Cooked Quinoa Salad
1 cup quinoa
2 cups water
¼ onion, chopped
1 tomato, chopped
1 bell pepper, chopped
1 clove garlic, crushed
sea salt or herbamare to taste
Mix the quinoa and water in a pot and bring to a boil. Reduce heat to simmer, add onions, cover, and cook for 20 minutes. Remove from heat. Mix in the rest of the ingredients.
Garlic Manna Bread
Manna bread is a very dense and nutritious sprouted grain bread made by Nature's Path. It is cooked at low temperatures but it isn't raw. If your local health food store carries it, you can find it in the freezer section.
1/2 loaf Manna bread, sliced
1-2 cloves garlic, crushed
2 Tbsp olive oil
Mix garlic and olive oil together. Spread on Manna bread slices.